A Big Kid Brownie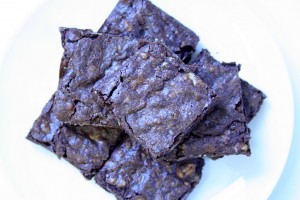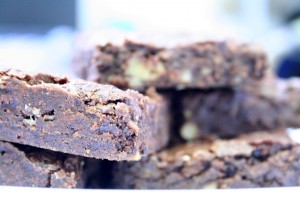 Katharine Hepburn first struck me as something special since I first saw her in "Woman of the Year". Her poise,confidence, and talent translated in every subsequent film I've seen her and she had a regal quality about her that made me feel like she could be a queen living among the masses. With the selection of the Katharine Hepburn brownies by Lisa of Surviving Oz, I was nearly in disbelief that she could also be such a bakestress that so many people could still recall the sumptuousness of her brownies. But, of course, she would a marvelous baker, too, though. What couldn't the woman do??
Brownies have always been one of those not-a-craving-but-I'll-eat-them-if-they-are-in-front-of-me kind of treat for myself, however, if I were have a signature brownie recipe, it would be much like this one. Coffee granules enhance the taste of the chocolate and cinnamon adds a bit of a "What's that flavor I taste??" puzzlement once it reaches the tongue. And nuts! Ohhhhh ,nuts! Some people hate nuts in their brownies. I am not one of those people. The more nuts the better, is what I say. Perhaps I would want it to be every so slightly loftier, but as an adult brownie, it was just right.
Thin, soft, and without too much flour — words to live by.
July 7, 2009